Jagielky's special blend: high quality chocolate
High quality chocolate requires harvesting fully ripe pods. Harvesting unripe pods results in low cocoa butter content & insufficient sugar content, resulting in weak flavor. Jagielky's uses only Quality Chocolate that is high in cocoa butter & tempered to produce a "snap & flavor".
Jagielky's high quality chocolate contains extra cocoa butter, and is a special blend of top quality chocolates to give our chocolate its special flavor. The higher percentage of cocoa butter, combined with proper tempering, gives the chocolate more sheen, firmer "snap" when broken, and a creamy mellow flavor. We select and blend highest quality chocolates to indulge our chocolate loving connoisseurs.  We've created our chocolate to be at 55% so it's less bitter than other dark chocolates.
Recent studies show Dark Chocolate is good for your heart
Dark Chocolate is loaded with Flavonoids. Here's news that's hard not to like: "Eating a small amount of dark chocolate every day is good for you"  says Mary Engler's publications: PhD, RN of the University of California, San Francisco and colleagues.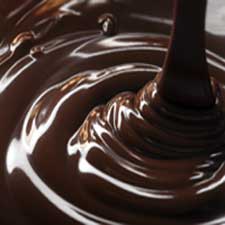 Not all chocolate is created equal. Dark Chocolate contains a lot more cocoa than other forms of chocolate. There are studies which show dark chocolate is a heart healthy food. Now a new study indicates chocolate can improve blood flow to the brain and perhaps improve learning and memory.
Here's the good news. Can you get better flavonoids from other foods? Surprisingly, the answer is no! Recent studies show dark chocolate has more flavonoids than any other food including green tea, black tea, etc.
Many people don't realize that chocolate is recommended for a healthy heart
Jagielky's has created special blends of dark chocolate coverings over pistachios, almonds, cranberries, cashews, filberts, Virginia peanuts and mixed nuts. "Not only do these products taste good, they are good for you," says owner Mike Carr. "Now you can eat chocolate, enjoy in moderation and not feel guilty."
Some of our customers enjoy our dark chocolate as a bark which contains some other healthy additions like our cranberries, blueberries, and almonds –  as their healthy choice once a day. (How they can limit themselves to one piece a day is a minor miracle to me!)