We have a variety of chocolate gift ideas to suit your needs especially for Christmas, Hanukkah, New Year's, and Easter! If you don't see what you are looking for or would like something special made up, give us a call at 609-823-6501 (Ventnor) or 609-822-2204 (Margate)
For special orders or larger orders, give us a call at 609-823-6501 , or if you need help selecting. SEE IDEAS BELOW.  
We have all kinds of gift ideas from pre-made boxes and tray's, to mugs, and custom picked boxes. Stumped for ideas? We can help!  Even bring in your own baskets, plates, boxes, you name it, and we can help you fill it with all kinds of treats to make someone's day with a very special gift.
Annamarie can help you with weddings, parties, special events – she's packed with awesome ideas.
For more info about Weddings and Parties, visit our Wedding and Party page here. For corporate gifts, check out our Corporate gifts page here.
AS ALWAYS…. our gift boxes are popular for any season, or any reason and are a perfect gift idea!
Never underestimate the power of a Jagielky's crafted homemade chocolate gift selection box, tower, tray, or basket!  When you're not sure what to bring, or what people like, go with chocolate, especially Jagielky's Homemade Chocolate in a gift box, basket, or tray.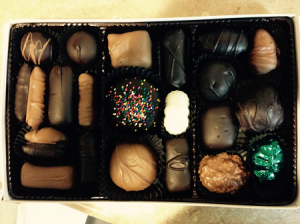 Phoebe's Gift Box is available in one or two pound assortments of our homemade Jagielky's Candies in both dark & milk chocolate blends. Visit our Ventnor or Margate New Jersey Stores. or order online for the perfect homemade chocolate gift box.  These gift boxes fly out of the store during the holidays.  Perfect for teachers, clients, house warming, and holiday party hostess gift.
Chocolate gift baskets are easy to make and are always well received. Here are a few ideas to help you put together the perfect gift basket with Jagielky's homemade chocolate treats.
1. Choose a basket or container – buy one from a craft store or visit thrift shops and flea markets.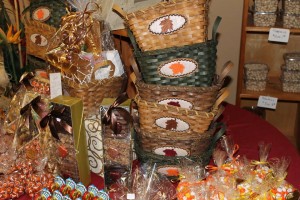 2. Choose your chocolate!
3. Cellophane bags and styrofoam balls will help keep your chocolates in place.
4. Label the chocolates – use little gift tags.
5. Pink or white bows will complement the chocolate theme.
6. Include a small teddy bear or a rose.
7. Don't forget the note card!
We have several gourmet chocolate gift baskets & boxes to choose from.  We can make up one for you with your own container or basket, or choose one of ours especially for the holiday!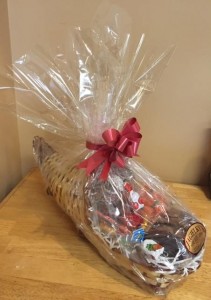 How about a cornucopia of candy?
or
We can also make up a  gift tray for that special occasion: