Periodically we will offer special deals and promotions on our Homemade Chocolates and Candies, but only via email.  If you're not on our list, join here.  Check back often or sign up for our email list to be notified of all the latest specials and promotions.
HAPPY MOTHER'S DAY!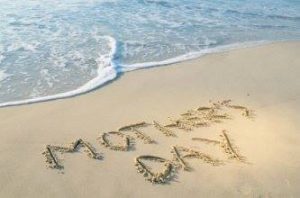 It's time to honor those special women!  And we have the perfect treat! Chocolate covered strawberries! They are the best! Our Master Chocolatier goes out to select the best and freshest strawberries and comes back to coat them.  We only offer these during select times of the year – so get them now!  Place a pre-order for pick-up to ensure we have some put aside for you!
NOTE: we cannot ship strawberries, sorry. BUT…if you're up for the challenge, order our dark and/or milk wafers, microwave them at 30 seconds on high. Stir. Continue at 15 second intervals until melted.  The dip your clean, dried (! very important) strawberries into the chocolate and swirl until coated. EazyPeezy – and you look like a creative genius (or nobody has to know! 🙂 we won't tell).
READY FOR SOMETHING NEW?  Jagielky Joys!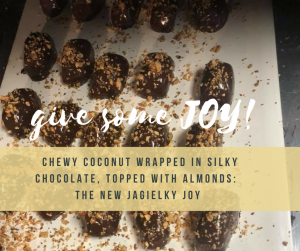 We were looking for something new, and we know we've got some real coconut fans out there! So we started with our chewy, packed coconut mounds recipe used for our easter eggs, topped them with an almond, covered them in dark chocolate, THEN!, topped with our toasted almond crunch topping.  We will also have nut free versions on occasion.
Be the standout guest by bringing to your party!!
Next special holidays coming up are Mother's and Father's Days, Memorial Day, and don't forger to bring us to the upcoming Communion parties, Showers, Graduations, and Weddings (we do favors!)
You can even order online here (for pickup and shipping)!  DID YOU KNOW YOU CAN PLACE YOUR ORDER for PICKUP, ONLINE BEFORE YOU LEAVE PHILA., and pop in to pick it up when you arrive in town!  Very convenient!